It seems rather remarkable, but someone has actually heralded Houston as a model of city planning, though I should really say, "unplanning."  the Antiplanner from Portland, Oregon, recently visited Houston and said, "I came to Houston last week prepared to like it, and in fact I loved it."  Although I think the Antiplanner is wrong about the lack of need for planning, I think he is right that governments probably shouldn't endorse multi-use developments with tax breaks or other economic incentives.
 But the killer detail from the post is the following passage:
The money quote came from Michael Morgan, a local developer who was partnering with Trammel Crow, which has built several mixed-use developments in Portland (not all of which have been successful), to plan a 24-acre development in Houston. But after due consideration, they scaled back and probably will not do a true mixed-use development, just some apartments next to a big-box store.

After looking at other cities, says Morgan, "we discovered the ones that were economically successful were the ones that had government help." Amen.
The area Morgan is talking about is the old HISD complex on Weslayan and Richmond.  It was supposed to be a fantastic mixed-use development.  Now, it looks like it will be apartments and a Costco in the middle of the city.  This first picture shows a rendering of what the project was originally conceived as.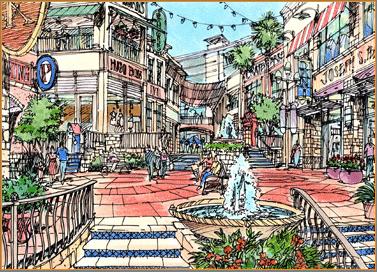 The second picture shows the ugliness it will become.